Wednesday, February 20, 2008
Monday, February 18, 2008
By Ray Metcalfe
February 17, 2008
ConocoPhillips President Jim Bowles just can't seem to get Palin's attention. He said she just doesn't understand the economics of it all. Maybe he should just try the same old fashioned economics his predecessors at ARCO used with former Governor Tony Knowles. Just write her a big check. Click here (PDF) to see what I mean.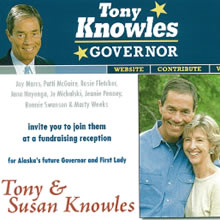 Did you look? If you did, ask yourself three questions. Do you remember any time in state history when it was legal to contribute more than $1000 to an elected official or a committee formed for his election or other benefit? Do you remember a time at all when it was legal to write a check to an elected official even though all of his former campaign debts were paid and he or she wasn't running for office? Better yet, do you remember a time when it was legal for corporations to write $15,000, $20,000 and $30,000 in checks to an elected official for any reason?
On second thought, I suspect that if Jim Bowles tried with Palin what worked so well with Knowles, she would soon take steps to provide him with a matched set of metal bracelets.
Read the complete article here...http://alaskareport.com/metcalfe/m91113_tony_knowles.php

Friday, February 01, 2008